VietNamNet Bridge – With its fraternity, Vietnam is not a threat to security of Cambodia, said spokesperson for the Royal Government of Cambodia Phay Siphan.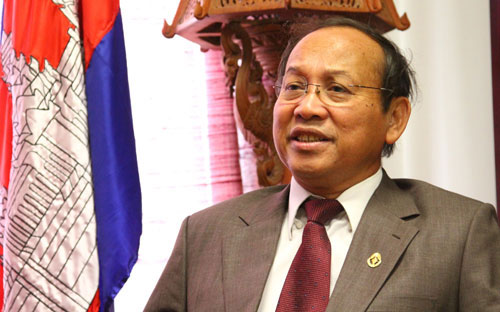 Spokesperson for the Royal Government of Cambodia Phay Siphan. – File photo
 "The Government and people of Cambodia has always advocated the protection and development of relations with Vietnam as a result of great efforts in their long struggle for national independence through many historical periods. Cambodia resolutely prevents any hostile force from undermining the special solidarity ", Phay Siphan confirmed in a recent interview with a Phnom Penh-based Radio Voice of Vietnam correspondent.
Could you please tell us about the Cambodian Government's view on pertubative protests before the Vietnam Embassy in Cambodia, and provocative acts cooking up Vietnamese history and relations between Vietnam and Cambodia?
We are resolved not to let a small group of extremists who have no or little understanding of history incite divisive relations between the two nations. We hold the historical legacy that nothing can be separated.